SPHERE Curates: Jewellery Gifts for Stylish Men 2022
The breadth, style and fashion consciousness of men's jewellery has undergone a complete renaissance in the last few years. Men like Harry Styles and the Grammy Award musician Frank Ocean - who has launched a jewellery brand named Homer - have revived masculine flamboyance with a touch of femininity to the way men wear jewellery which has caught on in every quarter of the luxury industry. A strand of pearls for men? Absolutely. And why should arm candy bracelets be the preserve of women? Should further precedent be required, let's look to Henry VIII, we have a lot to thank him for when it comes to masculine bling.
Designed in 18k solid gold with a bar perfect for engraving a personalised message or name, this I.D. chain bracelet captures the utilitarian spirit of classic American design that is the signature of Tiffany. If you're looking for an heirloom gift, this is it. It also looks as excellent worn alone, as it does paired with a watch.  
Here is a piece of masculine jewellery that is as stylish as it is playful. Up to its black lacquered metal finish - it also comes in white, if your giftee prefers - the Cavalier line is inspired by chess. The details within this piece include an subtle engraving beneath the horse, and its clasp is surrounded by a hand representing the player.
Say It with a Signet Ring
The popularity of the signet ring is pretty much off the scale in the world of men's jewellery. Apart from a wedding band, about the only other logical placement on the male hand for a ring is the little finger. There is a lot to choose from in this space, and here we have shared two, 
Bottega Veneta has a wide range of signet rings, the fluted gold-plated silver with a red stone above, balances the line between fancy and stylish.
The Jam Homemade signet below takes cues from graduation styles - cast from burnished sterling silver, each ring is set with a birthstone that represent a month of the year and etched with a geometric pattern around the bezel. This one is inlaid with a light-catching red stone that represents the month of January.
If It's Good Enough for Harry Styles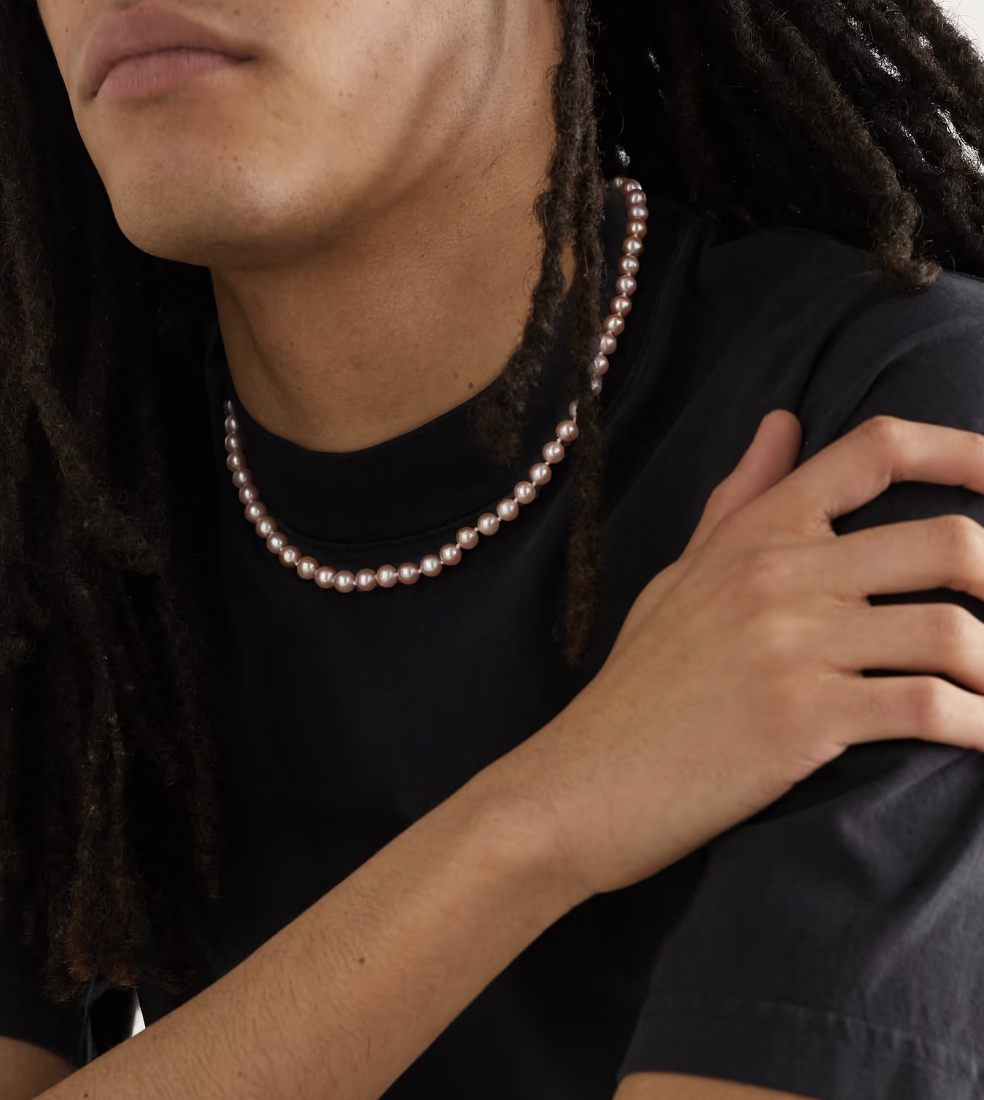 Polite Worldwide is a brand that aims to bring manners and politeness back into modern life, and it does this by working sustainably and collaboratively with its suppliers and makers, and sharing the journey of all of their products in the most transparent way possible. Their jewellery for mens has been spotted on the likes of Justin Bieber and Harry Styles. This necklace is strung with pink pearls and it has a 14-karat gold clasp that's as much a part of the design as the precious gems.
If you're a little bit stuck as to what jewellery to gift a man this Christmas, choosing a little bit of arm candy is your best bet. The breadth of bangles on offer, from chunks of solid gold, to playful, colourful beads, woven leather wristlets, or masculine beads on offer means there is something for every taste. And, they look best layered up. Why stop at one?