The Best Small UK Theatres with Spectacular Plays
Words by
Charlotte Metcalf
Small theatres of the UK really can offer the most spectacular plays and offer a special evening at the theatre.  SPHERE has selected these bijou theatres from the West End to Newcastle that attract star actors and cutting-edge productions - so go ahead and book those tickets.
Small UK Theatres with Spectactular Plays
On 19 May 2023, actress Ruth Wilson, winner of multiple awards, appeared on the Young Vic's stage for a full 24 hours in the UK premiere of The Second Woman. This extraordinary theatrical event involved one scene, one actress — and 100 men. You could spend however long you wanted in the theatre, seeing any number of different men come and go. "Theatre legend was made over that 24-hour period and it was epic," says the Young Vic's artistic director Kwame Kwei-Armah. "Ruth was phenomenal, and for every one of us who shared in the magic, it was an experience we'll never forget."
Here we look into other fantastic productions from the Young Vic along with other small theatres up and down the UK.
Much of the Young Vic's work transfers to the West End, including productions such as The Collaboration and the smash hit Oklahoma!, and it continues to push boundaries, as it did earlier this year with Mandela, a new musical, and Further than the Furthest Thing, based around real events on the Atlantic island of Tristan da Cunha. "At heart I'm a populist — I want to please and catalyse debate among the widest array of people," says Kwei-Armah, adding modestly, "A part of our secret recipe is down to good luck. Regardless of, and perhaps even because of, our size, it's our vision, commitment and dedication that enables us to stand out as a leading London theatre. The world-renowned work we make extends beyond our four walls." This autumn will see productions of Beneatha's Place, set in Nigeria in 1959, the European premiere of f*ck m*ss s**gon, exploring East and Southeast Asian representation on stage, and Tribe, a celebration of family.
While popular musicals and sell-out plays inhabit the West End and bigger theatres like the National and the Royal Shakespeare Company, smaller theatres are staging plays that confront major, controversial issues. Many punch way above their apparent weight, pulling off major coups.  
Take the Bush Theatre, which landed Lenny Henry and his new play August in England. "We're not a small theatre — because we're mighty in what we do," laughs artistic director Lynette Linton, who previously directed Henry in the television drama My Name is Leon. "Lenny and I were both angry about the Windrush scandal, so I commissioned him to write the play." She is proud to be at the helm of a theatre rooted in Shepherd's Bush, an area that has resisted gentrification and remained true to its multicultural community. "We're a hub for superb Black and Asian talent that should be in the West End but isn't," she says.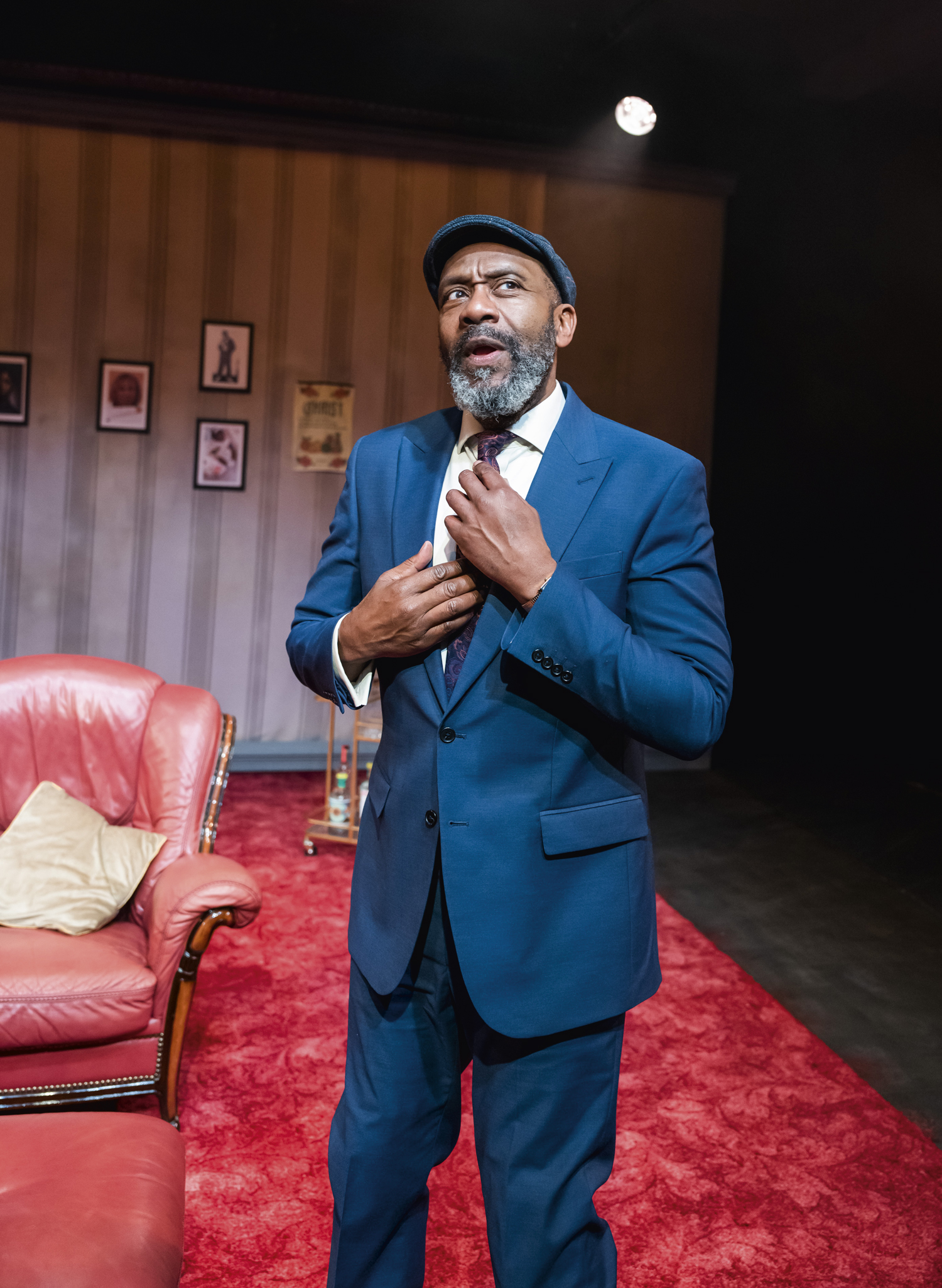 I had enjoyed Matilda Feyisayo Ibini's Sleepova, a joyous, exuberant play about three teenage girls that had the audience laughing and whooping with delight. "Matilda was the first playwright I commissioned when I started here in 2019," says Linton. "Coming up in September is Red Pitch, Tyrell Williams's award-winning play about three young footballers trying to get into QPR, and we've got Anoushka Lucas's Elephant, about a young girl's relationship with a piano and what it means to be mixed race. It's the first time we're putting on two revivals, but I'm confident as their first runs did so well."
In nearby Latimer Road, Anthony Biggs is artistic director of the Playground Theatre, which serves the community around Grenfell Tower. The Grenfell inquiry was an obvious choice of topic, and Biggs turned to Nicolas Kent, renowned for staging works on the Stephen Lawrence and Iraq war inquiries. "We didn't want to focus on the families who'd suffered, but on the structural failings which the inquiry identified, because that's what will ultimately produce systemic change," says Biggs. Grenfell: System Failure followed on from Grenfell: Value Engineering. I watched it at the Tabernacle theatre, within a stone's throw of Grenfell Tower, and the audience mingled with the actors in the bar and discussed the issues long into the evening. "Theatre's role is getting people together to tell stories and forge links," says Biggs.
In September he staged Something Unspoken, Tennessee Williams's only play about gay women. "It's set in 1950s Mississippi, when lesbianism was a serious taboo. I'm fascinated by repression, given what's going on in America over abortion. It was paired with a new commission by the playwright Rena Brannan, performed by her wife Sophie Ward, with an outreach project supporting the local LGBT+ community. We're also doing a major livestreamed community reading of a new play looking at the right to privacy, particularly around abortion, examining the life of Estelle Griswold, the activist behind Roe vs Wade."
He notes that a small theatre can react much faster than a larger one, enabling him to mount a mini three-week festival in September showcasing the best new writing from the Edinburgh Festival. Ruby Wax will be trying out her new mental-health themed show at the Playground before she takes it on tour. Again, a small theatre, embedded in its community, is able to attract big names.
Rob Hastie, the artistic director of Sheffield Theatres, believes creating material for a specific audience gives work far wider resonance. Take Chris Bush's Standing at the Sky's Edge, with music by Pulp's Richard Hawley. The musical charts Britain's industrial decline through the story of Park Hill, the gigantic, brutalist, post-war housing project that replaced Sheffield's slums, witnessing the devastation caused by the collapse of the steel industry and today's uneasy attempts at gentrification. It transferred to the National Theatre and will open again at London's Gillian Lynne Theatre in February 2024.
"By making a story really work for our audience, it resonates the world over," says Hastie. "The Life of Pi started at the Crucible and then won three Tonys on Broadway. We have so much talent in South Yorkshire and tapping into what's current and relevant in the classical canon has been key. Coming up is Roger McGough's adaptation of Molière's The Hypochondriac, which should resonate post-pandemic, when the lines between health and wellness are blurred and we tend to self-diagnose via Google. There's also the world premiere of Hannah Morley's We Could All Be Perfect, a whistlestop tour of teenagers throughout history from Joan of Arc to Greta Thunberg."
At Northern Stage in Newcastle, Dave Johns's adaptation of Ken Loach's I, Daniel Blake was embraced by local audiences and tours this autumn. Johns, who starred as Daniel Blake in the original film, says, "When the film came out in 2016 there was one food bank in Newcastle; today there are seven, so this play is not fiction. I want people to get angry about the social housing situation — theatre should hold politicians to account. We sold out six weeks before we started rehearsals and we've had nightly, spontaneous standing ovations." Johns points out that the film won the Palme d'Or, so there is an appetite for stories about struggle and poverty, told honestly, without preaching.
"Making work for your own city with integrity and pride, you end up with work that demands to be told more widely," concludes Hastie. Community theatres are certainly unearthing a universal appetite for new, challenging, thought-provoking plays.